Log production steps easily
Log production steps easily and traceably with Tracker4all
In the age of the "digital factory" and the terms "Industry 4.0" or "IoT" (Internet of Things) that appear again and again, one would like to think that manufacturers log their production steps as a matter of course and that the processes are logged in detail and archived in a traceable manner.
This may be the case in larger companies, where many thousands of products are often manufactured and the corresponding production planning systems also offer the necessary digital solutions.
But what about the smaller companies, or those that do not mass produce thousands of products, but only a few hundred or even just a few tens of products?
This is exactly what our product, the Tracker4all is suitable for.
The Tracker4all is a solution for internal tracking + management of material and shipments of all kinds. So for all companies and authorities who want to track material and need the current status (Track And Trace).
Data capture with mobile barcode scanners is of course also possible and even the rule.
Customizable – Transparent – Seamless – Secure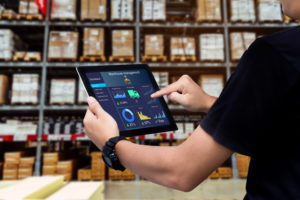 This solution can provide an overview and transparency of the manufacturing steps. The goal here is to map the processes of a production simply and comprehensibly. This includes, for example, logging the assemblies or materials used for production. Serial numbers of these individual components can be recorded and filed chronologically, so that it is also possible to trace at a later date which parts or serial numbers have been used for the end product (proof of the production chain).
From the planning of the products, to the production of the same, to the delivery to the customer – with the help of Tracker4all this is solved. And this in a simple, traceable and transparent way.  
Contact
Do you have questions about the Tracker4all solution and its application possibilities? We look forward to hearing from you!
Simply use this contact form or call us directly.